Recruitment is a very important process because it helps an organization to achieve optimal performance. But it can be a long, costly, and time-consuming process to find the perfect match for a company. There are different tools though, that can help recruiters to be more efficient while going through the phases of the recruitment process. 
Using online recruitment platforms can help you reduce costs, be more competitive, and streamline the hiring process. Read on to find out the best online recruiting tools you can use to optimize performance and results. 
Zoho Recruit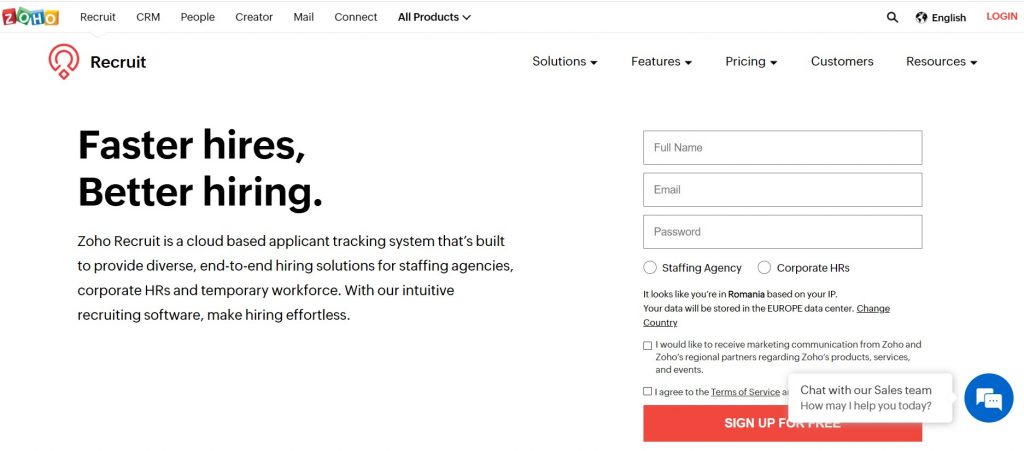 A free tool that offers both applicant tracking and hiring software and can be used by staffing agencies and corporate HR departments. It helps to streamline the hiring process and improve efficiency as it allows for easy management of applicants' data. You can easily post a job opening, manage resumes, categorize, and shortlist candidates. The software can be integrated with other Zoho and third-party applications. 
Breezy HR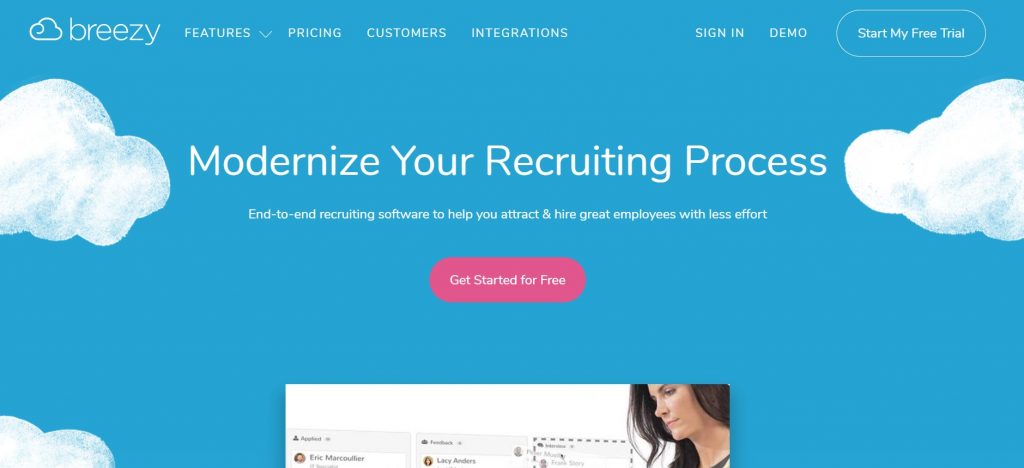 A modern applicant tracking system and end-to-end recruiting software that helps to attract and hire top candidates. Some of its key features include candidate management through a drag and drop interface, reporting and analytics, automated SMS, email, scheduling, interview management. There are a basic free plan and several paid plans with different features included but all of them come with unlimited users and candidates. 
JobScore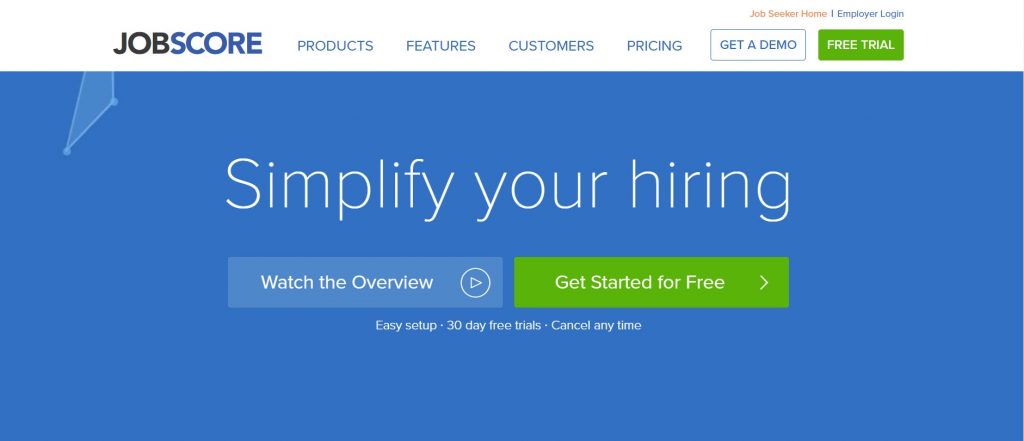 This recruiting software and online applicant tracking system has one goal – to simplify the hiring process. There are two products available – for small businesses that hire up to 5 people at a time ($99/month paid annually), and for professional agencies that hire more than 5 people at a time ($299/month paid annually). There are useful features such as candidate management, communication, and review tools, interview management, and scheduling. Both plans include unlimited candidates and users, as well as tags and notes. 
Recruitee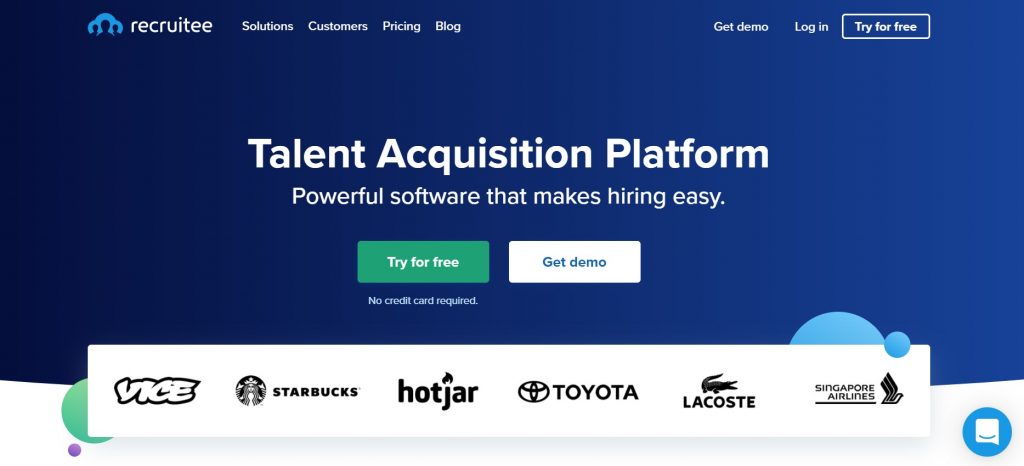 An online recruitment software which is one of the leaders in Europe for talent acquisition. It allows you to attract top candidates by automating the hiring process and offers data prediction and reporting. The main features are included in all paid plans with the difference being the number of active job openings. There is a free 18-day trial and paid plans start at $79 per month. 
Workable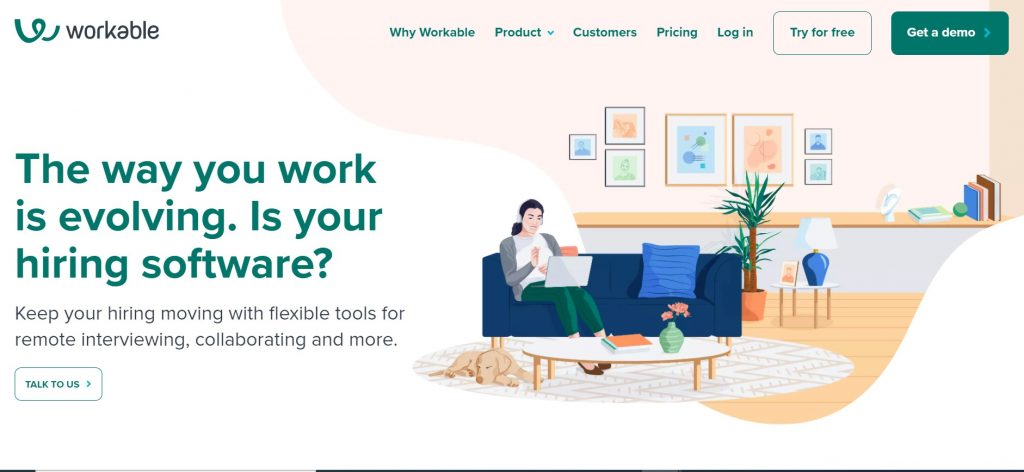 This online recruitment tool will help you find, track, and hire top talent with ease. It optimizes the speed and cost of the hiring process by providing candidate profiles, visual pipelines, interview scheduling, evaluations, and scorecards, as well as recruiting reports. Workable has three paid plans starting at $99, and there is a free trial for 15 days. 
In conclusion, before you choose a recruiting software for your company make sure to identify your goals and what features would you need to support these goals. Look for a tool that is easy to use, and can be customized to your specific requirements. By using online recruitment software you can drastically reduce costs, invest less time and effort, and generally improve the efficiency and success rate of the hiring process. 
Unicorn.io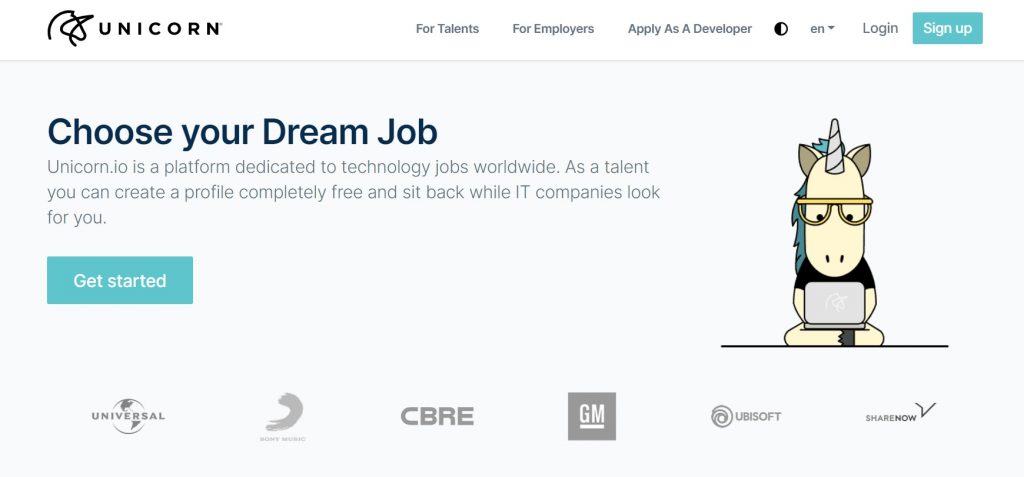 Companies are struggling more than ever to find the right people with the right technical skill. Unicorn.io allows organizations to shift their hiring strategies; the Unicorn platform connects potential candidates with opportunities, potential candidates to recruiters, and organizations. Not every candidate is perfect for your job; so to make sure you find the perfect fit, here at Unicorn, we screen every skill; applicants need to pass a code challenge and a verification call with one of the company's TalentReps. With Unicorn.io, you save valuable time. You can search for the best candidate using various filters such as skills, location, expected salary, availability to relocate, and a couple of other criteria.